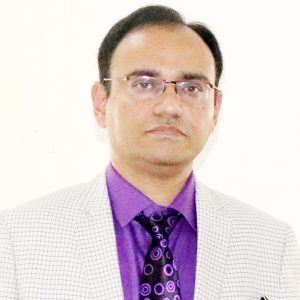 A Management Graduate Having More Than One Decade Of Experience In "International Business & Marketing, Corporate Relations, Recruitment As Well As Training and Development". ​
We serve in the areas of talent sourcing, training and development, recruitment, and assessment, as well as IT-related services. A brief profile of its founder is as follows – 
Initially, he started his career journey as an "Executive – International Marketing" and then worked as an "Executive Consultant – International Business". He got the opportunity to deal with many international prospects and clients from Sweden, China, Hong Kong, USA, UK, Ireland and many more. Hence, he had good exposure to dealing with clients or professionals from different countries, with diversified cultures and business wisdom.
Also, Participated in ITFs (International Trade Fairs) and delivered corporate presentations to foreign nationals and clients at prime locations like Hyatt Regency, The Oberoi, The Imperial, Radisson, and The Ashok in Delhi/NCR.
Later, he worked with various reputed educational groups in the areas of corporate relations, training and placement, and recruitment in mid and senior-level management positions. He also volunteered as a resource person for many professionals to support their career journey and connect them to HR networks.
Attended/Participated in workshops in various domains like: International Business Transactions–Legal & Cultural Implications (jointly organized by US Educational Foundation & IIM); Conferences of CII (Confederation of Indian Industry), National Conferences of Universities/Educational Groups, and Corporate Meets—as corporate and social engagement and learning. maintained contact with over 500+ organizations and companies in India and abroad.
Reconstructed the structure of placement/recruitment cells of different colleges and institutions to help students effectively with their career planning and recruitment (internships and final placement).
Conformed corporate evaluation formats for presentations, Interviews, and GD as well as Mock Interviews-after discussing with many HR Heads and Technical Heads from different companies. Then, he drafted guidelines for panelists and training team members too, to pin-point mistakes and provide the right suggestions to students for their career preparation along with the right implementation techniques.
Delivered training sessions/workshops to students and professionals on: Career planning, CV/Profile/Portfolio Drafting, Interview Planning, Soft Skills, Job Search Strategies & Correspondence, Networking & Interpersonal Communication, Group Discussion, etc. He also helped out students with poor communication skills to improve their overall communication in some innovative ways.
Mentored parents/groups in bringing out the best in their children, particularly in finding and grooming true talent (an overall career strategy—the right step-by-step approach since school time).
Active as a mentor to both school/college students and professionals for initial career planning or career re-structuring for many years. He helped in re-drafting of CVs of many senior professionals (up to 30 years' work experience) and facilitated them too, whenever they got stuck in seeking new career opportunities.
Arranged company/industrial visits of students at different plants/manufacturing units like Tata Motors, Honda Car India, Honda Motorcycle and Scooter India Private Limited, Bosch Ltd, RICO, Jubilant Organosys, India Glycol Ltd, Sona Koyo Steering Systems Ltd, Lumax Industries, L&T etc. and also arranged for some training sessions at industrial sites itself, which was a very good live exposure to students.
Organized sessions with Sr. Managers/Vice-President/CHRO/CEO/Directors from corporate- he often invited many high-profile corporate guests for different Conferences/ Pre-placement audits/Workshops at institutions/university campuses/events.
Arranged numerous training/development and recruitment events for organizations, such as-
To name a few, there are Honda Group, Bosch Ltd., ICICI Group, Reliance Capital, Reliance Jio, Reliance Retail, Google Inc., OPPO, Airtel, TATA Group, Mahindra Group, Wipro, Genpact, Asahi India Glass, HDFC Bank, HDFC Mutual Funds, YES Bank, SBI, Kotak Mahindra, NIIT Ltd., Edelweiss, Goldman Sachs, OYO, Naukri.com, L&T, Johnson Lifts, Hero Moto Corp., Payworld – A FinTech Co., Khel Group – Gaming Industry, and many more (including a wide network of IT/ITES companies too).
Helping aspirants on their journey to a successful career.
Our Exposure, Experience And Potential At A Glance.